Oct 9th Day of Action in defence of #1492 Land Back Lane
This compilation of events is reproduced from the Facebook page of One Dish, One Mic
Calls for a day of #1492LandBackLane Solidarity has gone out. Several communities have responded. This is an expansion of this great master list which can be found here:
The communities of Six Nations, Toronto, Montreal, Kitchener/Waterloo, Guelph, Ottawa, London, Niagara, Windsor, St-Damien, East York, Windsor, and New Hazelton are having events and the details follow.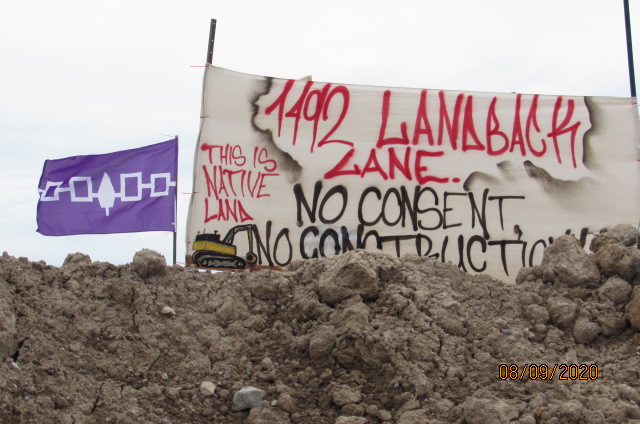 Call for autonomous solidarity actions
Here is the call for autonomous solidarity actions the #1492LandBackLane camp:
"On October 9 we are calling our allies and supporters to action – we need your support as we face unjust legal processes in defense of our lands and waters.
Indigenous Peoples and Land Defenders across Turtle Island will stand together and amplify our collective resistance to colonial oppression.
This day of action is about land back everywhere, continuing a tradition of national days of action in support of Indigenous sovereignty. We are calling for a diversity of tactics coming from the diverse communities from which our support comes.
The colonial state and their police continue to try to divide and conquer the Peoples of Turtle Island. While we resist colonial violence in its many forms everyday, October 9th we will again reclaim colonized spaces and disrupt colonial infrastructure.
Together we will send a message to political leaders, the courts and police – their roads and rails and so-called economic development have extracted the health and well-being from our communities for long enough. Now is the time to fight back.
On October 9th we will be appearing in their court to defend ourselves against their injunction. We are calling for autonomous solidarity actions from communities of resistance across Turtle Island."
More info:
www.facebook.com/groups/1656879034481566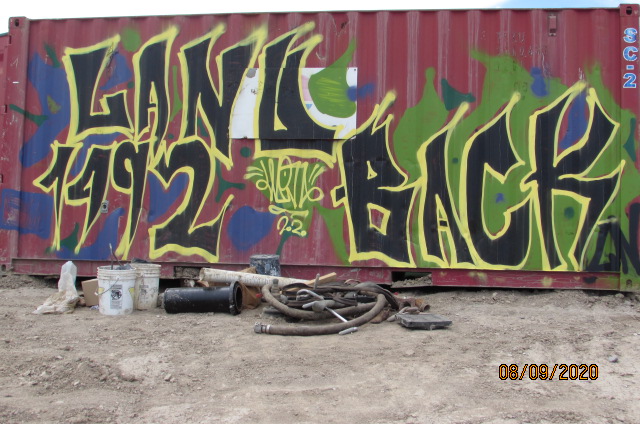 Cayuga Oct. 9th Solidarity with 1492 Land Back Lane
FRIDAY AT 9 AM EDT
Cayuga Superior Court of Justice
"Come to the Cayuga Court House on Friday October 9th at 9am to show support for Land Defenders from 1492 Land Back Lane. Bring signs. Wear a mask!
Let the Haldimand Police Services Board know that they don't speak for everyone in Haldimand.
Public can attend in person or call 1-855-703-8985
ID 630 2633 0222
Passcode 614820"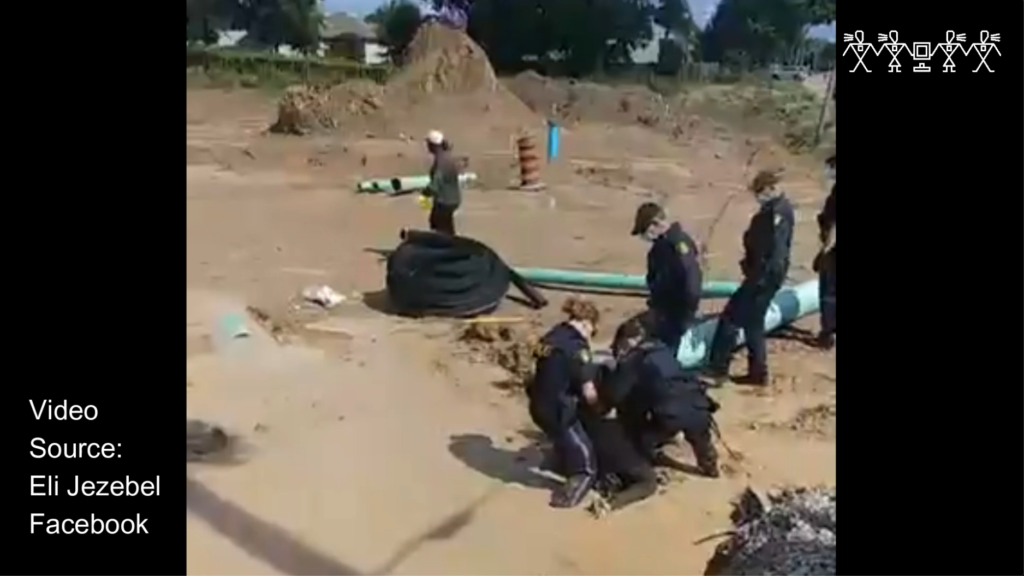 Toronto Rally to Support Six Nations Land Defenders at 1492 Land Back Lane
FRIDAY AT 3 PM EDT – 5 PM EDT
111 Wellesley St. W, Toronto
"Musician Lacey Hill (@musiclacey), along with speakers from 1492 Land Back, No Pride in Policing, No More Silence, No One is Illegal – Toronto, and more!
Oct 9, 2020 Land Defenders will be fighting an injunction in Ontario Courts. Come out to support Indigenous land defenders against the colonial legal system!
We will meet and gather at Queen's Park (south lawn) to insist that the government meet the demands of the land defenders. We will then march to another location."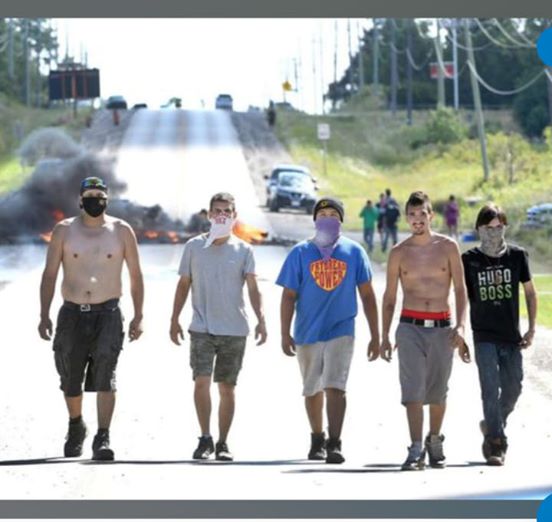 Montreal Journée de solidarité avec #1492LandBackLane
FRIDAY AT 1 PM EDT – 7 PM EDT
Wolf Park (St-Urbain x Maisonneuve), Tiohtiá:ke (Montreal)
"On October 9th, we are organizing a gathering space for Indigenous community members and allies in Tiohtiá:ke (Montreal) in solidarity with Haudenosaunee and allies of the 1492 Land Back Lane land defending mobilization. This space will amplify connectivity and reciprocity. We will amplify the messages of defenders protecting their lands and waterways for the future of their communities, as well as celebrate the strength of Indigenous community members in Tiohtiá:ke. There will be food, music, singing and dancing!"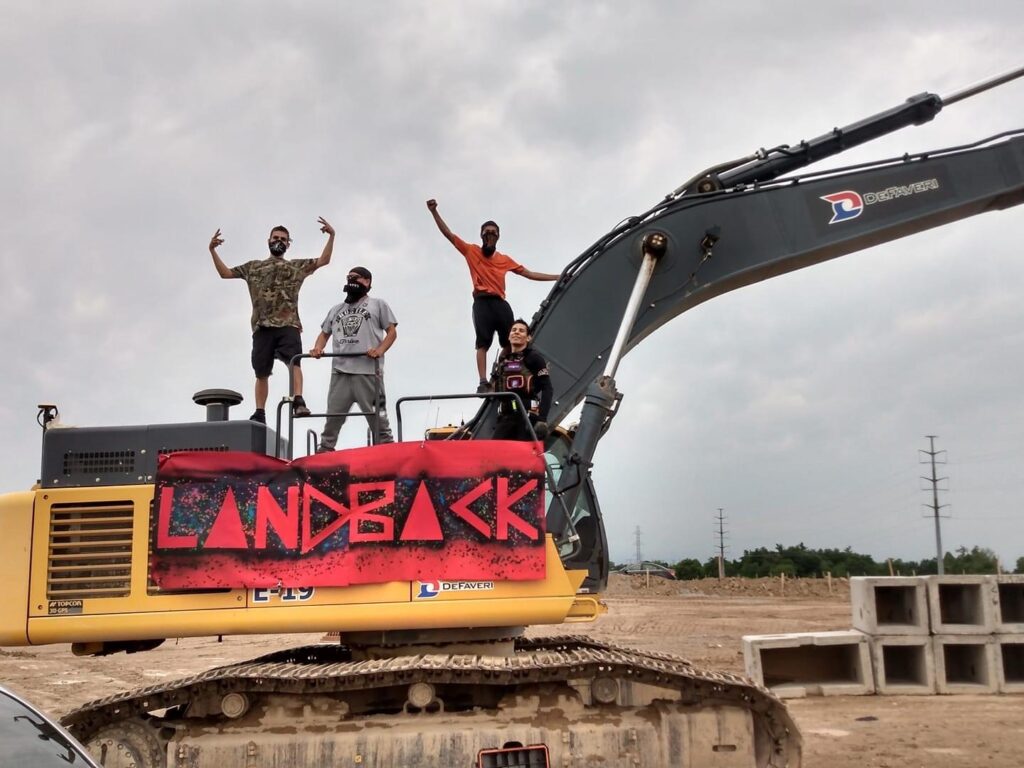 Waterloo Region stands with #1492LandBackLane
FRIDAY AT 11:30 AM EDT – 6 PM EDT
Waterloo Town Square
"Waterloo Region lies entirely within the Haldimand Tract designated to Six Nations in 1784. Settlers before us squatted on and stole this land but on October 9 we are standing up to call for #LandBack in support of #1492LandBackLane. Drop in for community art creation, letter writing, and conversation. Kid friendly and COVID measures in place. NO MORE ARRESTS. RESPECT INDIGENOUS SOVEREIGNTY."
London 1492 LandBackLane Solidarity Action
FRIDAY AT 4:30 PM EDT – 5:30 PM EDT
Victoria Park, London, Ontario
"We are gathering peacefully to show our support of the Land Defenders and the Haldimand proclamation.
"Singers are Welcome. Speakers are to be announced. There will be post cards available to write to the elected officials.
"Social distancing will be in effect, and masks are encouraged."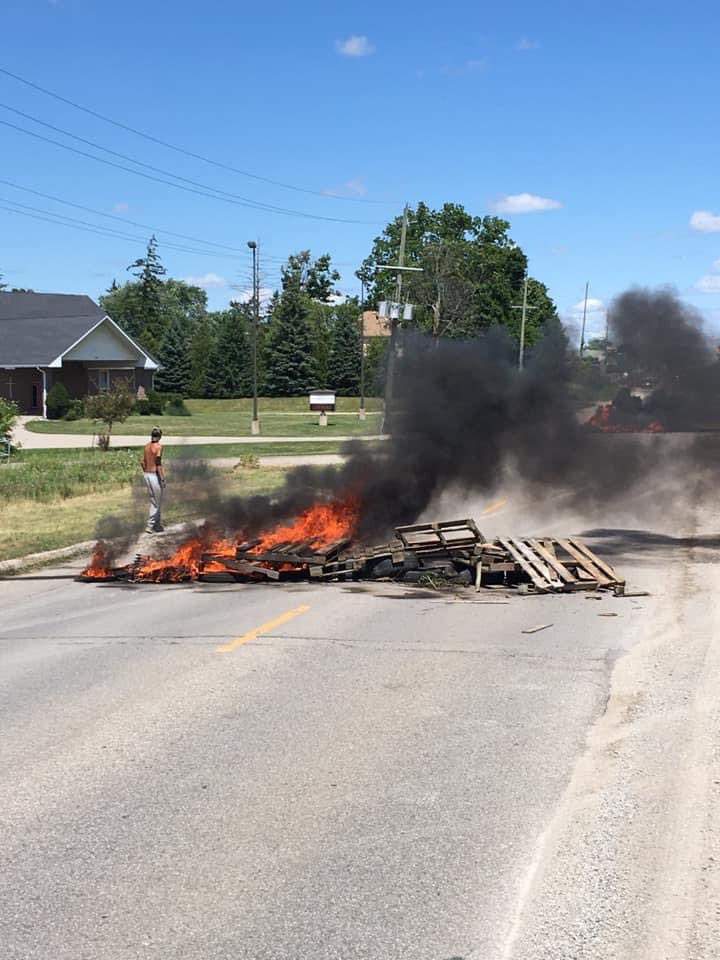 Guelph Stands With 6 Nations Land Defenders
FRIDAY AT 11:30 AM EDT – 1 PM EDT
173 Woolwich St, Guelph
"Join supporters of 1492 Land Back Lane to get a signature of support from MPP Mike Schreiner. We will be outside his office to make some noise in support of 6 Nations, write letters to politicians, and collect donations."
Landback Lane Niagara in solidarity
FRIDAY AT 5 PM EDT – 8 PM EDT
5355 Stanley Ave, Niagara Falls
"NIagara stands in solidarity with #1492LandBackLane"
Toronto Project Landback – Solidarity
FRIDAY AT 10 AM EDT – 10 PM EDT
305 Dawes Rd, East York
"We will be having a Fundraising Market with Arts, Crafts, and Indian Tacos for Sale. 100% of today's proceeds will go directly to 1492 Land Back Lane Legal Defence Fund."
Ottawa – Indigenous Day of Rage Against Colonialism
FRIDAY AT 2 PM EDT
301 Wellington St, Ottawa
"Please join Indigenous land defenders and their allies in support of multiple struggles against colonialism!
Meet at 2PM at the Supreme Court of Canada (301 Wellington Street, Ottawa)
Wear masks, bring drums, and respect physical distancing!
We are rallying in support of:
1. The Haudenosaunee nation and the 1492 Land Back Lane movement
2. The M'ikmaq nation and their treaty rights
3. The Algonquin nation and the #MooseMoratorium
4. The Wet'suwet'en nation and its fight against pipelines
5. The Secwepemc nation and the Tiny House Warriors movement
6. The Rotinonhseshá:ka of Kanehsatà:ke
Invite your friends, share widely and we hope to see you there!"
***
New Hazelton #1492LandBackLane Indigenous Solidarity Action
FRIDAY, OCTOBER 9, 2020 AT 7 PM EDT – 9 PM EDT
The Hazeltons Visitor Centre, New Hazelton, BC
"We call on all Gitxsan and allies in the lax yip to join in solidarity with our relatives on the other side of Turtle Island because their fight is our fight. We must stand strong against the injustice of the colonial oppressors and assert our sovereignty. Let us remind the governments that we are still here and we will continue to fight for our birthright."
Levée de fonds spectaculaire pour Kanonhstaton
FRIDAY AT 5 PM EDT – 7 PM EDT
6915 Rue Principale, St-Damien
"Un évènement spectaculaire pour célébrer le plaisir d"être ensembles, dans la joie et la sécurité. Un moment spécial pour célébrer le courage de la nation Kanonhstaton qui nous montre le chemin de la résistance; pas à pas vers une justice sociale anti-coloniale."
1492 Land Back Lane Windsor Law Coalition Online Event
OCT 5 AT 9 AM EDT – OCT 9 AT 6 PM EDT
Online Event
"This week-long event, starting on Monday, October 5, 2020, will be made up of both online and in-person actions and initiatives aimed at raising awareness of the ongoing violence and injustices committed against Indigenous peoples. We hope that the initiatives and resources provided and shared will not only help students and supporters learn more about what is happening at 1492 Land Back Lane but also start a discussion about the continued presumed sovereignty of Canada on Indigenous Land."